20 YEARS OF MAD ICE + TETEMA AFRO-LATIN CLUB 5.12.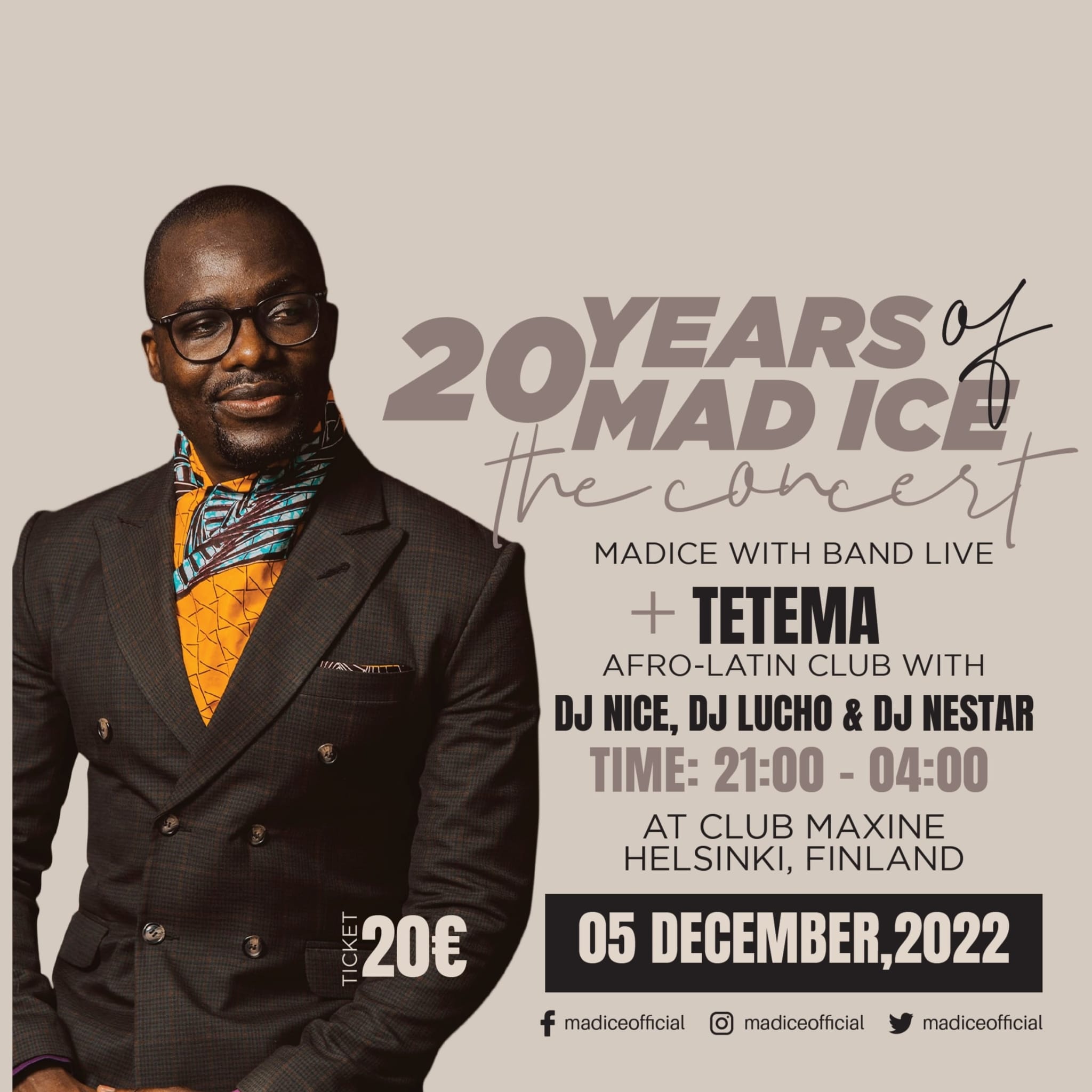 Experience a soulful and captivating live performance of East Africa's legendary artist Mad Ice and his band on 05.12.2022 at Maxine.
Show time: 21:30-23:00 / tickets: 20e
Through the years, Mad Ice matured from a Bongo Flava/Dancehall artist into a musically profound and soulful singer whose voice carries the weight of his experience without losing any melodic intensity.
Singing mainly in Swahili, English and Luganda, Mad Ice's soulful voice and energetic performances always capture audiences' attention whether he is on a Pop, jazz or world music stage.
Don't miss this stunning live set which effectively puts the listener in the middle of the action, reflecting the energy Mad Ice generates on stage.
TETEMA AFRO-LATIN CLUB
After the concert, TETEMA Afro-Latin Club takes over with the best selection of Afro and Latin music featuring Helsinki's finest DJs; DJ Nice, DJ Lucho, and DJ Nestar.
Time: 23:00-04:30 / tickets from the door: 12e
Night Lite -applikaatiolla saat etuja Maxinessa.
Sovelluksen saat ladattua veloituksetta sovelluskaupasta. Lisätietoja Night Litesta voit lukea täältä.
Glow-taso:
-vaihtuvat etukupongit
-ilmainen sisäänpääsy pe & la ennen kello 23:00 (psl. erikoisillat)
Shine-taso:
-Glow- ja Shine -tasojen etukupongit
-ilmainen sisäänpääsy koko illan (psl. erikoisillat)
-normaalihintaiset juomatuotteet -15 %